SIGN UP NOW FOR FUN ART CLASSES AND A BED AND BREAKFAST STAY.
The following article is from our Jacksonville Center for the Arts News Letter; I copied and pasted to make sure all the information on up-coming classes are accurate. What could be more fun than a Mother's Day gift of a weekend in Floyd taking a class of your choice and have one on one time with Mom. It would be the perfect gift for Mother/Daughter, Mom/Dad, Mom/Mom, or Girlfriend/All Moms. The only thing that would make it the over the top gift of a lifetime would be to pair it with a stay at Mountain Song Inn, one of Floyd County's premiere bed and breakfast. We are full for Mother's day because of Virginia Tech's graduation, but you can celebrate anytime. We would be happy to send a gift certificate. Hope to see you here soon.
April Showers bring May Flowers...and New Instructors too!
Treat your special mom to an adventure in creativity with one of our special
their classes out at the Jax and now is your chance to get creative with them.
May classes
begin with a rainbow of color in Scott Cole's Kaleidoscope
making class. Scott comes to the Jax from his home in western North Carolina
where he teaches regularly at The John C. Campbell Folks School. He
has been making his beautiful copper, brass and aluminum encased
and etched kaleidoscopes for over 20 years and brings his master level
skills to the Jax on May 11-13.
May 13th for a 5 hour workshop on making jewelry from precious metal
clays. PMCs are a special malleable material with precious metals powder
mixed in, allowing the user to hand form jewelry that will be fired to solid
perfection.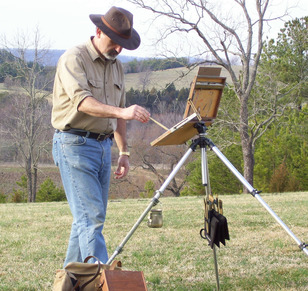 The Jax also looks forward to a
long weekend
out-of-doors with Bedford-based
May 18-20. Although essentially
self-taught, Ed has studied
under such masters
as Kevin MacPherson, Ralph
Oberg, and Charles
Sovek. In his paintings, he
manages to establish
the effect of space and has a
technique that wields the power
to suggest mood—some of his
works shining with the brightness
of life while others brood with the depth of shadow. This class will take
their inspiration directly from the Blue Ridge Mountains by spending at
least half the workshop outside on the Parkway or other space around
Floyd.
The month will draw to a close in our pottery studio when Mike Lalone,
Pottery Studio Manager at the John C. Campbell Folk School, brings his
special skills in sculptural work to the Jax for a week long workshop
on ceramic portraits, May 21-25. Learn the special skills involved in
sculpting facial features in clay in a fun and creative environment.
Mike's special love of clay and years of teaching both children and
adults the art ceramics makes this class a sure-fire way to unwind
and grow at the same time.
Click on class for more information:
(Remember that we offer gift certificates and they make great gifts too!)
All classes at The Jacksonville Center require pre-registration. Register online
satellite location,
The Jax Galleria
, offers class registration downtown at The Station
.